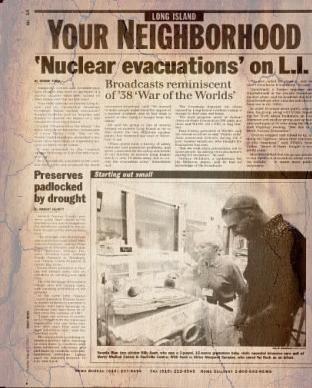 When we were opposing Shoreham, I had an idea.
Because we have one way to get out of the East End of Long Island, we need to travel West. Sunday evening traffic gets worse because most folks are going back to Manhattan. The traffic is unbearable, not even thinking about the Shoreham nuclear plant. That fact appealed to me.
I asked the college radio station manager for two hours at the college station on a Sunday afternoon. I told the manager I would increase his listeners by 1,000%!
"Great! I like that," he said. "What are you going to air over the station?" he asked.
"We're going to blow up the Shoreham nuclear plant, of course," I told him with a deadpan face. Then I told him what would happen.
"Karl Grossman, the journalist, will discuss the problems of evacuation... From Eastern Long Island with guests." I explained activists would be advertising. It would ask the drivers to tune to the college station.
"I love it," he said.
We went to work with our local group of activists, the East End Shoreham Opponents Coalition. We met, designed the maneuvers, spent only a day or two preparing for the action and then went out to do what had to be.
While investigative reporter Karl Grossman interviewed his guests, we did something else. We stationed ourselves all along the highway.
We posted a series of signs made from 4 feet by 8 foot plywood boards. A sign got placed about every two hundred feet.
The first said "YOU ARE,"
The next said, "IN A."
Then the third, "MOCK."
And finally, "NUCLEAR EVACUATION."
We then sent folks about a half mile and hold the last sign: "TUNE TO WPBX 102.7."
The progression of the large signs were more than two football fields in length. They got lettered by an artist, volunteer and the signs got seen and read from over a mile away. The roads have been already at a near stand still, we sent our folks with their cars in the traffic to make the tie-up worse. Their goal was to make a greater logger jam and create more traffic problems. It was cruel. But we wanted to bring the issue to the forefront. If there was a need to evacuate the East End, it would be next to impossible.
Phone calls came into the studio from people who had no idea what was happening. The calls demonstrated the caller's deep, fear-based concern. Our street driving activists had a ball "acting."
As an organizational tool, it was wonderful because it was plain fun.
There was only one person who got bummed out from the event. That person was the student deejay who lost his two-hour time slot on the radio station. According to him we had "Shanghaied it," he said.
Although I don't remember his name, he gave me an even greater idea. He mumbled, "what a waste, how stupid. It sounded like War of the Worlds."
"Bingo," I thought... That's what was missing.
It occurred to me the car's radio did tune in to WPBX 102.7 to hear what was going on about Shoreham. They could not be angry at us because they already knew they were going to be in a traffic jam. Indeed, we added a nice little edge from the usual boredom of gridlock. But still, after a while, I imagined they would tune us out and listen to whatever they listen to in traffic jams.
What was missing was to rivet them to the radio and highlight the evacuation issue.
I called Eric Corley at Stony Brook University. Corley was often referred to by his pen name of Emmanuel Goldstein, a figure in the hacker community. The pseudonym comes from the George Orwell book Nineteen Eighty-Four. Corley hosted a radio show Off the Hook on WBAI. He also had a show on WUSB.
I explained to Eric what I had in mind. "If you want, you can help us focus on evacuation by producing a play about the Shoreham plant blowing up. It should focus upon the inability to evacuate!"
We agreed to meet at the diner in Riverhead. We would discuss the script and the political action surrounding a two hour program. We discussed the groups of activists who will be on the roads when the radio play is airing.
I wanted the play to be generic in nature so all political actions could be anywhere. I suggested it should run as "Shadow Over The Island."
Eric had a different view and he agreed to write the script and produce it as "Shadow Over Long Island." More, he and others worked out arrangements with a Connecticut station. Stony Brook's WUSB decided to simulcast with WPKN, a Pacifica station in Connecticut. In the meantime, I got on my horse and started to contact all the anti-nuke groups. SHAD was a primary group who went to the streets and highways with homemade signs. Shoreham Opponents Coalition staged many sign postings as did other groups. Similar demonstrations occurred in Connecticut.
The radio play itself was good, and also very data-focused. But there was no real attempt at acting as if there was a real emergency. But it wasn't a concern because the street activists made it feel like there was a need to evacuate. The activists were very demonstrative.
Five groups in both Connecticut and Long Island found busy streets and posted the signs. YOU ARE IN A MOCK NUCLEAR EVACUATION TUNE TO WUSB 88.3 or WPKN 89.5.
Wow!
You guessed it. As the radio play aired from two radio stations near each other on the dial it gave an added feel of importance. Because the street activist actors were so believable the reaction was incredible. The program caused super reactions. The police stations got called. In turn people called the school officials who in turn called the radio station.
There is a little more to the story.
I got psyched from the success of the radio play and political action. But I knew the play needed more drama. I enrolled in New York Institute of Technology. I decided to get a master's degree in communication arts. Why? You guessed it, to create SHADOW OVER THE ISLAND, a video drama.
My method was to get straight "A"s, which I did. In the first semester they allowed me to write a full length docudrama. I got an A. I then lobbied to design an entire master's course around the project of producing a full length movie. I used that leverage to get what I wanted. The institute has three professional television studios comparable to most TV stations. About twenty five students enrolled to help make the movie. We auditioned and hired professional actors. There was a cast of over 100.
Here is what the New York Daily News said: 'NUCLEAR EVACUATIONS' ON L.I. BROADCASTS REMINISCENT of '38 'WAR of THE WORLDS'
Hamptons visitors and residents thought they were in the midst of a nuclear disaster. When they turned on their radios over the last few days.
Four radio stations on Long Island and Connecticut broadcast 45minute "mock" nuclear evacuations. The action took place on Saturday and Sunday... Designed to explore the impact of a real evacuation from Long Island.
The mock evacuation and broadcast mimicked a live news show... Describing an impending nuclear accident on the island.
The Coalition against Millstone, an East End antinuclear group, sponsored the broadcast.
Our goal was that we want the people to understand the impact of a nuclear accident. It was to feel what it would be like, trying to escape from this island.
He said his group is one of several formed on eastern Long Island to try to shut down the two Millstone nuclear plants that reopened last year in Waterford, Conn.
"These plants have a history of safety violations and personal problems and, were concerned for the safety and health of our families in eastern Long Island, which is only 15 miles away, but is outside the evacuation zone," Stanchfield said.
The broadcast depicted the chaos caused by Long Island residents trying to escape in their cars and boats.
The paid program aired at various times on three Connecticut' FM radio stations and WLNG (92.1 FM) in Sag Harbor.
Paul Sidney, president of WLNG, said his station received several "frantic calls" from concerned listeners during the 5 p.m. Sunday broadcast, who thought the evacuation was real.
"But we took extra precautions not to scare people, by adding extra disclaimers during the broadcast," Stanchfield said. '
Stanchfield, a former Quality Assurance Engineer and whistleblower at the Shoreham nuclear plant said, "we modeled this broadcast after a similar anti-Shoreham action in the 1980s."
To create more public awareness, his group, along with STAR, Standing for Truth About Radiation, an East Hampton antinuclear group, put up banners and signs at 10 sites along the Montauk Highway reading, "You Are in a Mock Nuclear Evacuation."
"Drivers stopped and talked to us along the highway. They gave their reactions to this broadcast," STAR's Scott Cullen said.
Stanchfield said his group will run the mock evacuations about every six months. "The story's the same around any nuclear power plant in the world! I will encourage activists to do the same while broadcasting the Docudrama."
.......BELOW IS THE FULL DOCUDRAMA.......