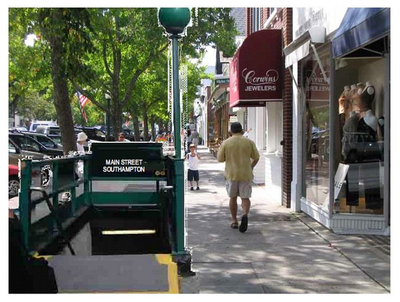 Subway!
Long Lost Subway Tunnels are Found Throughout the Hamptons
By Dan Rattiner
(With a tip of the hat to Ron Stanchfield)
As most people know, the single most spectacular real estate development ever attempted on the East End was that of Carl G. Fisher. In the mid 1920s, he bought the entire peninsula of Montauk, 12,000 acres in all, and during the years between 1925 and 1929 began to build a great city in that community. The centerpiece of it, built on the downtown plaza he created in a field, was the seven-story building that continues to dominate this community to this day. But he also built a polo field, a race track, a yacht club, a gambling casino, a boardwalk and swim club, a 250 room hotel high on a hill — it still stands as the Montauk Manor — the entire network of roads in downtown Montauk, including pink sidewalks which survive in many areas, half a dozen downtown commercial buildings, two churches and an automobile racetrack. He also imported sheep and built a section for the help known as Shepherd's Neck. (Still in existence.)
His intention from the get-go was to build a big beach resort city, similar to the one he had built in the early 1920s in Miami Beach. Among other things, he had recently been married for the third time, to a 16-year- old named Jane. These were heady times for millionaire Carl Fisher.
What has never been known until now is that while Carl Fisher and some of his wealthy friends were building Montauk (it failed in the crash of '29), there was a lesser known and very shady figure by the name of Ivan Kratz, a wealthy builder, who had designs on the creating a transportation monopoly for the Fisher project.
Ivan Kratz, between 1900 and 1925, had made millions by building the New York City Subway System. His work was good, but the way he went about securing contracts was crooked. In 1900, offering up a whole slew of bribes to New York City officials, he had bid high but got the contract to build the New York City Subway System. By paying notoriously low salaries to his workmen, he made huge amounts of money at both ends.
By 1924, however, he was under investigation as part of the Teapot Dome scandal. Amazingly, in 1928 when it came time to look for the money Kratz had made — he was by this time the owner of a vast oceanfront mansion in East Hampton — it all came up empty. Where had the money gone?
Last month, auctioneers selling the contents of the Kratz mansion — only recently sold by his heirs — came upon an extraordinary document. Copies of it were turned over to the Town of Southampton and the Town of East Hampton. And representatives of the New York State Department of Transportation had become involved.
Kratz, between 1925 and 1929, had secretly constructed an enormous underground subway system that he called the South Fork Subway. It has its main terminus right under the open plaza in downtown Montauk. And it is connected up to underground "stations" in Napeague, Amagansett, East Hampton, Bridgehampton, Southampton, Quogue and Westhampton Beach. There is a spur that goes up to Sag Harbor and North Haven, and another that goes up Three Mile Harbor Road in East Hampton and then splits off to end at Maidstone Park in Three Mile Harbor and Gerard Park at Accabonac Harbor.
"At first," said Tom Larson of the NY State Department of Transportation, "we thought that the subway map that had turned up at the auction was some kind of joke."
But then Town bulldozers from the two highway departments were brought in, and the first of the holes was dug — the first just under the large and unused gas ball in Sag Harbor just behind the Post Office. In just four days of digging, the workmen uncovered twin platforms, two sets of rails including a third rail that went down into some dark tunnels, a ticket booth, some turnstiles and a flight of stairs that went up to a steel Bilco door that had been covered up by grass. The Sag Harbor station for the G Train.
"We made three decisions," Larson said. "We agreed not to go public with whatever this was until we knew what it was, we agreed to send workmen in golf carts down the tunnels, and we agreed to remove the gas ball."
The gas ball was taken away, piece by piece, in May. And it was inaccurately announced, to throw people off, that the dig where the gas ball was had to do with some sort of underground pollution. Also, it might be necessary to remove some commercial buildings in the area. Indeed, the state is already in negotiations to condemn the first of those buildings.
"It's all in place," Larson said at the press conference. His eyes welled up with tears. "The whole thing. We've been through it from end to end. And it's all there. It has the same white ceramic tiles on the walls that they have in the New York Subway. The names of all the stations in blue tiles. There are eighteen stations. And all we have to do to make this whole thing operational has brought in a modern air exchange system to the tunnels, build some escalators to get down to the platforms to bring this up to code — there were no escalators in use in subways until the 1940s although they surely had them — and bring in some subway cars. The track gauge is also from the New York Subway. In fact, we believe that all these materials were FROM the New York Subway system. Stuff supposedly "stolen" by Kratz and brought out here. It's all amazing. And it is an answer to our prayers. The transportation nightmare in the Hamptons is over."
Someone asked the locations of all the underground subway stations and he told them. There is one under the parking lot at the Montauk Lighthouse, there is one under the crossroads of Flamingo Road and Westlake Drive at the fishing village there, there is one on Ditch Plains Road where it makes the ninety degree turn to the left, there is one under the Kirk Park Beach parking lot in downtown Montauk named "Montauk Beach" which is what Carl Fisher called the place, there is one just under the Montauk Railroad Station, another behind the restaurant called LUNCH on the Napeague Strip, one at the corner of Montauk Highway and Napeague Lane in Beach Hampton and one in the Amagansett parking lot by the Amagansett railroad station.
Other locations heading further west include under the intersection of Further Lane and Egypt Lane in East Hampton, under the Main Beach parking lot in East Hampton, under the parking lot at South Ferry in North Haven, under the old Alison By the Beach restaurant on Route 27 and Town Line Road, under the Bridgehampton Railroad Station, under Cromer's Market on Noyac Road, under the field in back of Corrigan's Service Station at Hayground Road and the Montauk Highway in Water Mill, under the village green in Water Mill, under the back parking lot of the Princess Diner at Hampton Road and County Road 39 in Southampton, under a lot adjacent to the Sandpiper Motel in Shinnecock, under the street in front of the Blue Moon Café in East Quogue, at the corner of Lewis Road and Route 27A in East Quogue and under two different locations along Jessup Avenue in Quogue, one at the corner of Flowers By Lori at Midland, and the other at Jessup and Quogue Street in front of Q Restaurant. In Westhampton Beach, there is a subway stop at the corner of Sunset and Main in front of Lucille's Beach Barn.
"We don't know why a station was not built in Hampton Bays," Larsen said. "Members of the Kratz family say that their grandfather once complained about a yacht he bought in Hampton Bays from a marina owner that sprang a leak and sank. That, we think might be as good a reason as any. Anyway, if we get all this together, we think we will probably put in a Hampton Bays stop."
A reporter asked Larson, who will be in charge of restoring the system.
"I am pleased to announce today that Governor Pataki has created a Hamptons Transportation Authority, with a base funding of ten million dollars. We will go from there."
A reporter asked if Peter Kalikow, who heads the Port Authority in New York and has a home in Montauk, might be interested in the job.
"It's possible," Larsen said.
Another reporter asked if Carl Fisher himself, who had an excellent and above board reputation, had been involved in this.
"We have dug deep into the Fisher archives," Larsen said. "Apparently he thought it was some kind of drainage subcontractor. He seems to have been aware of it, but that was about it. He was a big picture sort of guy."
"Any idea when the South Fork Subway will become operational?"
"We're looking at the summer of 2008."